Waiting for Fairies is pleased and proud to announce our very first contest! In honor of the release of White Witch, Black Curse, the newest volume in Kim Harrison's best-selling Rachel Morgan/ The Hollows series, we've managed to get our tiny little fairy paws on one of the limited edition WWBC Tour T-Shirts!
These shirts were briefly available via Ms. Harrison's website for purchase outright, but the last orders were due in by February 16th. So, if you managed to miss out – here's your chance for a do-over!
One lucky winner of our contest will win themselves the shirt, emblazoned with the palm print of Kisten's killer on the front and the tour cities on the reverse. Two runner's up will get themselves a packet of T-4 Angel tomato seeds. Grow your own viral tomatoes! Kim herself will be running her own contest regarding these seeds later in the summer – if you're brave enough to actually grow them! Keep an eye on Kim's site for more details.
Here's the swag: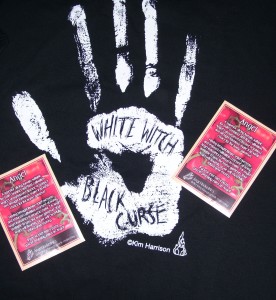 And here are the rules for the contest:
The headline is a clue: To enter, post your favorite Hollows-themed swear in the comments section of this post. (An example is: 'Tink's Panties' but it doesn't have to be one of Jenks' swear words.) Yes, this means you'll have to have read the books – or at least be able to run a quick Google search – but why would you want to win this if you haven't?
ONE comment per person only, please, or you'll be disqualified.
Because I'm paying shipping out of my own light pockets, I have to limit winners to those with a mailing address in the continental US. *If you have a friend that fits the above who's willing (and trustworthy enough) to accept it and forward the item to you, then feel free to go ahead and enter at your own risk.*
Contest will run through 11:59 PM ET Saturday, February 28th, 2009. The winners will be drawn at random by a web-based random number generator and announced the following week. Winners can expect to have their prizes mailed within two weeks of the announcement. I'll provide delivery confirmation for the T-shirt for everyone's peace of mind (specifically my own).
If you have questions, please use our contact form.
For more information on WWBC, The Hollows, or Kim Harrison, please see the links in this post.
Important: This site does have comment moderation turned ON. If your post does not appear right away, rest assured it has been received and will be posted shortly. DO NOT post more than once!
Edit: And this should go without saying but just in case – PLEASE don't list your mailing address in your comment. Winners will be contacted via email for this information.