Ok, our White Witch Black Curse contest is now over and the winners have been selected! This was done randomly using an internet based random number generator. The numbers were matched to the comments by the order they were posted. The first number pulled was for the Tour T-shirt, and the next two were for the T-4 Angel seeds.
Here were our prizes: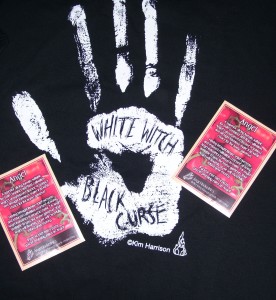 And with no further ado… Here are our winners:
The two runner-ups and winners of the T-4 Angel seeds are:
Commenter # 2 – Joanna!
and
Commenter # 7 – ~Lor!
And the Grand Prize Winner of the White Witch Black Curse t-shirt is:
*drumroll please*
….
Commenter # 5
PAIGE!
I want to say a big thank you to everyone who entered and congratulations to our winners! Please stay tuned for more WFF contests in the future! Winners will be contacted via e-mail for their personal details so that prizes can be mailed.