Due to the kindness of wonderful Ilona Andrews and Ace/Roc, I have gotten my hands on some 2009 science fiction and fantasy samplers.The samplers contain chapters from the newest works belonging to: Faith Hunter (Skinwalker), Mark Del Franco (Skin Deep), Patricia Briggs (Hunting Ground), Rob Thurman (Trick of the Light), Ilona Andrews (On the Edge), Steven R Boyett (Elegy Beach), and Julie Kenner (Tainted). Ilona was even kind enough to sign them all before forwarding to me. Aren't you lucky? I am giving away three of them right here and right now. I will give away a 4th to one lucky (random*) person when I reach 100 followers on Twitter.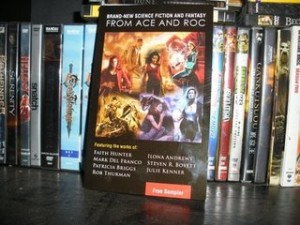 Here are the rules:
Just leave a comment. It can be anywhere on the site, if you prefer, but you must come back and leave me a note on this thread telling me you have commented.
I can only ship to the continental US. I'm deeply sorry for my Canadian and international friends but I make exactly $0 from this blog and thus don't have an international shipping budget. (I sincerely wish that I did!)
Make as many comments as you wish, but you will be entered into the drawing exactly once.
Contest will end in two weeks on July 27th at midnight everywhere. On July 28th, I'll draw the winners using random.org's number generator.
I will announce winners here at WFF and on Twitter. Winners will have 7 days to claim their prizes before I'll be forced to draw another winner.
As for the Twitter contest, I will draw one more lucky winner at random using the above method when I've reached 100 (non-spammy) followers. Same shipping conditions apply. At least check, that was a mere 10 followers away.
*I am drawing a random follower on Twitter because I don't believe in the "x-th follower wins" method. That sounds an awful lot like throwing over your old followers in favor of your newest ones to me, an that's always left a bad taste in my mouth. So I will do a random drawing so everyone has a chance to win! YAY!
Update: The Twitter winner has been drawn! Congratulations @spragujs!