What do you mean, you weren't planning on giving books as gifts this year? Haven't you heard that the economy is crappy? Put down that overpriced sweater and hie thee to your local bookstore ASAFP, people! A book is the perfect gift: they're cheap, they're portable. They're easy to wrap.
They can also be a doorway into hours of entertainment. Please consider the most excellent choice of a novel this holiday season. (Especially if you're buyingfor moi.)
If you're new to the book-as-gift buying idea, let Waiting For Fairies help you out. Here's our guide to this season's best stories for the giftee's in your life.
For the Sarcastic:
I could recommend nothing more nor less than Rob Thurman's Cal Leandros series. Give the gift of snark this holiday season. Your local wise-ass will thank you. Also works for: emos & goths. Trust me.
The series consists of:
Nightlife
Moonshine
Madhouse
Deathwish
Roadkill (forthcoming in March 2010)
Your giftee already a Thurman fan? No worries. Try Mark Henry's Happy Hour of the Damned instead.
For the Vampire Fan:
If you're ready to progress past stalker-vamps, why not let half-vamp, half-mage – all-bad-ass assassin – Sabina Kane cleanse your palate? This is the most unique vampire story I've read in a long time. Look for: Red Headed Step Child by Jaye Wells.
For the Ladies:
Have a friend who insists on opening her own doors and snorts at the thought of the Disney princesses? Then give the gift of a different side of all those sappy 'happily-ever-after' fairy tales. Jim C Hines' The Stepsister Scheme is a breath of fresh air. No princesses "waiting to be rescued" here. In fact, this trio of butt-kicking ladies turn the table on convention by heading out to rescue … a prince!
For Your Favorite D&D/Sword & Sorcery nerd:
And I say that in the fondest way possible. Internet rumor has it that Jim Butcher penned this sword-and-sorcery epic on a dare. Even if it's not true that the dare was to combine Pokemon and Roman legions into a workable story – it's still one crazy, wild ride. And totally worth it.
Codex Alera is a complete series composed of:
Furies of Calderon
Academ's Fury
Cursor's Fury
Captain's Fury
Princep's Fury
First Lord's Fury
For Moms & Fans of Zombies:
I know that's a crazy couple of demographics to put together, but Cherie Priest's Boneshaker has managed it. Single mom Briar Wilkes heads into a destroyed and barricaded alternate history Seattle to rescue her trapped teenage son. In the process, she fights zombies (aka "rotters"), meets dirigible-flying air pirates, and a crazy mad-scientist who just might be her long-dead ex-husband. Get this book for the zombie-fighting mom in YOUR life.
For the Steampunk or Jane Austen fans: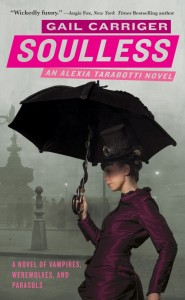 Properly-mannered spinster Alexia Tarabotti is missing something rather important. She is one of the rare people who lack a soul, giving her the unique gift of negating the otherworldly powers of the excessively-souled supernatural creatures of London. But just because she's soulless, that doesn't make her heartless and the ill-mannered brute of a werewolf known as Lord Conall Macon seems to have captured it. There's no time for romance, however, as Alexia has to solve the mystery of the disappearing, reappearing vampires! Soulless is worth reading for Alexia's flamboyant vampire friend, Lord Akeldama alone.
For the Intellectual 'Literary fiction' fan:
We all have those friends who would rather drop dead than be seen with a 'genre' novel. Do these friends a favor and buy them The Strangely Beautiful Tale of Miss Percy Parker by Leanna Renee Hieber. With the haunting prose of Dickens and the soul of a Victorian romance (with a dash of Jack the Ripper), Percy Parker is a mesmerizing tale.
For the Lover of Twist-Endings
If they loved The Sixth Sense, then they'll love Rob Thurman's A Trick of the Light. This book is all subtle build up followed by several successive Big Bangs of revelation and twist ending. I want to buy this book for every friend on my list. Don't forget to buy a copy for yourself, too. Believe me, you & your friend will appreciate having someone with which to discuss this book
For the Macabre:
For the friend who thinks The Crow (or, god-forbid, if you don't know that one, then the Saw movies) wasn't quite bloody enough. Meet just-resurrected-from-Hell Sandman Slim. Because it doesn't get any more bad ass than the guy who was an assassin for Satan's highest lieutenants. Richard Kadrey should be very proud of himself. Slim is probably the most talked about book of the year.
For the CSI fan:
Written by former medical examiner Diana Rowland, Mark of the Demon combines autopsies and demons. And scary things from the past coming back to bite you on the ass. Who can't relate to that? This is an author to watch, folks, so get in on the fandom early.
For the Comic / Superhero fan:
Black & White by Caitlin Kittredge and Jackie Kessler. Buy a copy for everyone who's ever even watched a Marvel movie. Because these two ladies have done it better.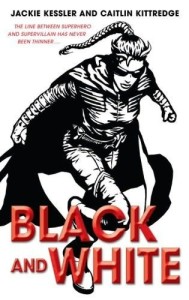 For the Conspiracy Theorist:
Ultra secret society of superheroes hiding out in every major city of the world, battling evil and protecting civilians while staying undercover and out of sight? If I could sum up Vicki Pettersson's Signs of the Zodiac series in one word it would be: brutal. Pettersson doesn't pull her punches when it comes to putting her heroine through the ringer.
Series consists of (to date):
The Scent of  Shadows
The Taste of Night
The Touch of Twilight
City of Souls
Cheat the Grave (forthcoming June 2010)
For Teens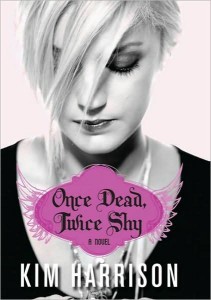 I can't recommend Kim Harrison's Once Dead, Twice Shy enough. I loved this novel, and I'm an adult. I can only imagine how much someone who's not quite as far from their teenage years as I am would love it. If you think they'd like something just a touch darker, then give them Lili St. Crow's Strange Angels. The teenagers were so realistic in that one that I wanted to pick them up and shake them. You can also try the just-released sequel. (PS – I gave my favorite teenager both of these novels for Christmas. So I stand by my recommendations.)
For Kids:
Neil Gaiman's The Graveyard Book has won so many awards I couldn't even list them all here – including The Newbery Medal. It's The Jungle Book,  with ghosts.
Another fun read for kids (or adults) is Brandon Sanderson's Alcatraz series. Written from the perspective of a boy who's 'superhero' power is clumsiness/klutziness/breaking stuff, we're introduced to a world where a vast secret society of evil librarians have conspired to write an entire continent who didn't agree with them right out of history.
Series consists of:
Alcatraz and the Evil Librarians
Alcatraz vs the Scrivener's Bones
Alcatraz and the Knights of Crystallia
So there you have it, folks. A shiny new book for every person on your list. Think we missed something? Leave your own recommendations in the comments.
FTC Disclaimer: The Amazon links are for your convenience only. I am not an affiliate and make no money from any purchases you may make. With that in mind, feel free to buy from whatever your favorite store happens to be. I did not receive review copies of any of the books recommended above. Which is a sad, sad thing. Edit: I forgot that I did, in fact, receive an ARC of Miss Percy Parker. Which was the book that made me feel Most Intelligent this year. Looking forward to the sequel!