The Mage in Black is the second book in the Sabina Kane series by Jaye Wells. I fell in love with the first book in the series, Red-Headed Step Child. I called RHSC "the most unique vampire story I've read in a long time" (in the WFF Gift-Buying Guide).  It was also one of my Top Ten Reads of 2009, ranking at #2! I was so excited to pick up this second volume, and now I'd like to share it with you.
The Blurb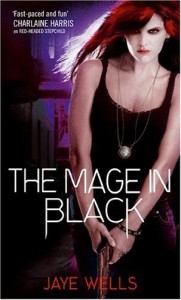 Sabina Kane doesn't have the best track record when it comes to family. After all, her own grandmother, leader of the vampire race, wants her dead. So when she arrives in New York to meet her mage relatives, the reunion puts the fun in dysfunctional. Not only is mage culture completely bizarre, but everyone seems to think she's some kind of 'Chosen' who'll unite the dark races. Sabina doesn't care who chose her, she's not into destiny.
But the mages aren't Sabina's only problem. In New York's Black Light District, she has run-ins with fighting demons, hostile werewolves and an opportunistic old flame. Sabina thought she'd take a bite out of the Big Apple – but it looks like it wants to bite back.
The Review
MiB opens with Sabina arriving in New York for her first meeting with her twin sister, Maisie. Having left everything she knows in California with the Dominae, she enters an entirely new world where the only people she trusts are Adam and her sister. When Adam is sent away on a mission, Sabina tries to navigate the murky world of mage politics on her own.
The decisions Sabina made in this book were true to her character, despite the fact that I didn't like very many of them. She may have found her twin sister at last, but Sabina is used to going it alone and solving her own problems. Except it seems Sabina isn't very good at making her own decisions. The choices she makes in this book are mostly bad ones. (Okay – I'm still mad at her for her involvement with Slade. I do not like that guy.)
However, we see some character growth for Sabina in this book and several new characters join the cast – including a female demon, which pleases Giguhl to no end, of course. The stakes are raised (no, not those stakes) and by the end of the book, Sabina starts to care about people other than herself.
I can't say any more without ruining the end. What I can say is that Jaye Wells still tops my list of best vampire mythology being published right now. The snippet of Green-Eyed Demon tucked in at the end has only whet my appetite for more Sabina, more Adam, more Giguhl — just MORE of everything.
[xrr rating=4.5/5 imageset=default]
Visit the author at her website or on Twitter.
Buy the book at Amazon, Barnes & Noble, or Indiebound.*
*Note: These are NOT affiliate links.