I've never done this before at Waiting for Fairies, but I figure – Hey, it's my blog! I can do what I want!
Some of my readers already know that I participate in a website known as BzzAgent.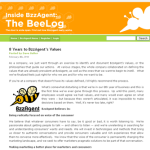 What is BzzAgent?
From the BzzAgent About Page:
BzzAgent creates a deep connection between consumers and brands to activate word of mouth across social and offline media. Through the engagement of our network of passionate, vocal and connected consumers, we provide companies the ability activate large-scale discussions, uncover hidden value, and drive measurable results. We believe in unpaid, unscripted ethical and authentic conversations (only!).
So what does that mean?
It means I sign up at the above website to get free products & coupons to try. I tell people about my experiences & review the products. I'm not obliged to like the product or to post a good review if I don't honestly believe in it (kind of like with books! 🙂 )
I've never posted any of those product reviews at WFF before. Mostly because I had structured this site to be all about books. With the merging of Waiting for Fairies with the Moonlit Glade – and, thus, more personal posts – I feel freer to share these things with you.
I'm currently participating in three different BzzCampaigns. I have tried 3 separate & very different products recently, and now I share my experiences with you.
Cover Girl & Olay Simply Ageless
I received this product line free to try (foundation, concealer, the eye cover up and blush). The foundation container was incredibly hard to figure out how to open the first time (the Cover Girl website has instructions – I wish I'd received them!).
This makeup promises that the color will "float on top" of your fine lines & wrinkles. Well, I am only 30 and don't have many of those, but I didn't notice much of a difference – it doesn't "minimize" so much as it just doesn't "emphasize" fine lines. Which is probably about the best effect one can expect from makeup.
The Soft Honey shade that I was sent was a bit too dark for me (I am very, very fair); but since I wore it at an outdoor wedding, I have since darkened to match. (Haha.) I recommend (just as I would for ANY makeup) that you apply & blend somewhere with natural light. I applied it under florescent light at first and it blended horribly & didn't look good at all. So get in a nice light where you can see what you're doing. (This part may have been affected by the fact that the shade was too dark for me. Your results may vary.)
On the plus side, a little bit of foundation seemed to go a very long way, so while the container looks pretty small, I think it could actually last quite awhile. On the negative – the eye concealer didn't seem to do much, so I had no use for it, and the blush was really dark (but blended well and I did use it). The correcter, on the other hand, was great!
I was pleased with the moisturizer in the foundation, as my skin is also very dry. My skin felt better after a couple of days wearing this foundation. Overall, I think the product is certainly worth the money and I will be purchasing it to use again (perhaps in a shade lighter this time).
Scrubbing Bubbles Extend-A-Clean Power Sprayer
I have to admit that I don't do much cleaning around the house. Most of that is done by my husband, who is proud to be a house"wife".  With that said, we both tried out the power sprayer part of it on the shower, because the automatic trigger was pretty cool. It was simple and easy to use – just pull back on the trigger & you get a continuous spray of cleaning product. No more wearing out your finger just spraying the bottle!
I didn't stick around for the wiping down part of things, though. I'm not that kind of a wife. *laugh* But I quizzed J most thoroughly on the subject and he said that it was very easy to wipe off and cleaned the shower just as well as any other product on the market. He was extra impressed with the way the product cleaned the sink area – so impressed he even used it on the floor! And it did an excellent job on that, too.
What I liked most about it, though, was the smell. I'm sensitive to the scents of most chemicals, so the bleach-and-Pine Sol combination that J usually uses in the bathroom gives me headaches. I was thrilled at the pleasant, not-chemical-y scent of this. In my opinion, that's worth purchasing it for alone.
göt2b smooth operator
I received a free coupon for a container of mousse for this campaign – which I have to admit that I haven't picked up yet. However, I was also sent something they call a "Lustre Lotion", which I have used.
This lotion is supposed to:
Shape, Smooth and Control Fly-aways.
Impart an Amazing Weightless Lustre and Softness.
Protect against Damage from Heat Styling and Contains a UV Protectant.
Control, Silken and Splurge with this Smoothing Lotion.
And I'd have to say it did everything admirably except the "lustre and softness" part. My hair doesn't feel any softer or look any shinier after using it (and perhaps it might feel a tiny bit less soft than it did).
However, it did tame the fly-aways in my very fine hair on an extremely hot and humid day. And it did that without weighing down my hair or making it look greasy or like I was using "product". With that and the UV protection (I don't heat style), I'd say it's worth using. Especially since it smells pretty amazing, too!
Wrap-Up
So those are the products I've tried lately and my thoughts on each of them. As I mentioned earlier, I do have several really good coupons for each of these products. If you'd like to try them, leave me a comment and a contact email so I can get your mailing address. I'll send the coupons anywhere a US 1st class stamp will take them (so, US addresses only). First come, first serve and I'll close the comments on this post at the end of the week.