This review may contain spoilers for book 1.
The Darkly Luminous Fight for Persephone Parker by Leanna Renee Hieber follows after the debut The Strangely Beautiful Tale of Miss Percy Parker.
In Strangely Beautiful, Persephone Parker arrives at Athens Academy amid strange goings-on in London. Ghostly activity has reached a desperate fervor and gruesome murders are occurring in the streets of the city. Percy loses her heart to mathematics professor Alexi Rychman – and nearly her life when the rest of London's Guard persuade Alexi that Percy is not their seventh, the reincarnation of their Goddess.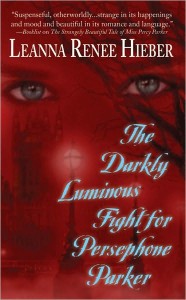 This second tale of the guard begins with a bittersweet opening. The Gorgon has been defeated, and Alexi and Percy have been wed. But Doors to the Underworld, the land of the dead, have been popping up all over Athens and the separation between the two has become thinner and thinner. A war is coming, and Percy may have to  enter the Underworld to face the Guard's nemesis…
In Strangely Beautiful the Guard were like stained-glass paintings: beautiful and almost unreal. But each character has a flaw, like a small bubble in that glass, and in Darkly Luminous we see each one float to the surface.
Percy is, as usual, insecure about her unusual looks. Alexi is outrageously jealous and over-protective of Percy's affections. Headmistress Rebecca Thompson is blinded by her infatuation with Alexi. Michael is depressed by his unrequited love for Rebecca. Elijah is torn between his rank & class and his desire to be with Josephine. Josephine is broken up by Elijah's refusal to marry her. And Jane is in love with a ghost.
It's a wonder that these people have been able to protect anybody at all, with all the secret-keeping and intrigue. But they do, and all comes out okay in the end – mostly.
Our heroes are well-rendered and flawed. Victorian London is always the perfect place for ghosts. The prose is, as expected from this author, finely crafted – as beautiful and delicate as silver mesh. The references to Shakespeare made me smile. And the ending kept me up quite late trying to finish.
This book moved much faster than the last one, though the first volume is required in order to understand much of the story. The Strangely Beautiful books are much different in style than what I normally read and were a refreshing change.
If you're looking for a ghostly paranormal romance with a twist of old Greek mythology, Persephone Parker's story is for you.
Find the author at her website or on Twitter.
And buy the book from Amazon, B&N or Indiebound.
[xrr rating=3.75/5 imageset=default]