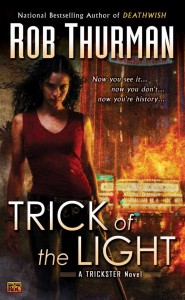 Trick of the Light by Rob Thurman.
Oh, Ms. Thurman how you have confounded and delighted me through the course of your published works. For your first three published novels I was convinced you were male. This is probably not surprising, given your choice of abbreviating your name. I was elated, for those books, at getting what seemed like a titillating and a bit illicit glimpse into the male psyche. If it were not for a google search trying to find the next release date, I may have never known the difference. I was dismayed, for a moment, and then decided that your being female and writing male lead characters so well merely meant that you were an even better author than I had surmised.
I must confess to an abiding love for Cal and Niko Leandros. The wit. The snark. The guns and monsters and blood. These are a better gift for a girl than flowers. But then, you knew that, didn't you? Alas, I still hold a special place in my heart for kick-ass female leads – a place that neither Cal nor Niko could ever touch. Which is why, when I first heard Trick of the Light featured such a female, it was immediately placed on my Books I Must Have. Now. List.
I read this book in two days. It would have been a much shorter amount of time, but I had this pesky thing called 'work' getting in the way of my reading time. It's such a burden, but they tell me I have to go in order to have 'necessities' such as food and clothing. I have not yet been able to convince anyone that a good book is really all one needs. Oh, well.
But you came here for a review, didn't you?
I adored Trick of the Light. I have this surety that I could (and will) read Trixa's story over and over, and it will make me laugh every time. At first glance, the story is merely a fast-paced carnival ride into the battle between angels and demons in Las Vegas. Trixa Iktomi, our previously mentioned kick-ass female, cares for neither side. She cares only for these things: her run-down bar, her wise-ass crow companion, the two foster-home-runaway boys she practically raised to adulthood, the color red. And her brother's killer.
With this in mind, she searches for an artifact older than time itself. The Light of Life is a protective item that could sway and possibly end the battle between Heaven and Hell. No one knows what it looks like, but whomever possesses it is unassailable. With the Light, Heaven (or Hell, or anywhere else) would become a haven that could not be entered or attacked.
This makes the  Light priceless. Needless to say, everyone wants it. When Trixa finds the item's supernatural trail first, she ends up with demons, angels, and a group of holier-than-thou humans (called Eden House) on her tail. She very expertly plays each group against the other, leading them by the nose to the final battle royale – where all the expectations the reader has built up through the course of the story are shattered into a million glittering glass pieces across the barren desert sand.
Until this final free-for-all, Trick of the Light is a great book. Once the final revelations start to be revealed, however, Trick surpasses 'great' for interstellar travel. There are very few gems of storytelling that, when revealed, will light up my eyes with a murderous gleam and make my heart pound with excitement. I won't reveal any of these here, because most of the fun is finding out for yourself.
What I will tell you is that Trick of the Light, has made its way into my top five books of the year with the force of a gunshot from Zeke's Colt Anaconda. Read it. I'd bet Las Vegas itself that you won't regret it.
(PS – Ms. Thurman, I just want you to know that I've never watched more than an episode of Supernatural but remain convinced that they copied off of you and not the other way around.)
[xrr rating=4.75/5 imageset=tiny_star]