Day 09 – Best scene ever
Geez, this one is a really, really hard choice. There are a ton of books who could qualify for "best scene". Like:
The battleground scene of Jacqueline Carey's Kushiel's Dart, where Phedre is nearly skinned alive and Joscelin nearly performs the terminus.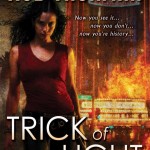 The climactic scene of Rob Thurman's exciting Trixa novel: Trick of the Light. This ending is twistier than a bag full of soft pretzels.
The startling imagery of Anne Bishop's Queen of the Darkness. Specifically, the scene where Saetan, Daemon, and Lucivar keep Jaenelle from returning to the Darkness.
The final, mind-boggling, jaw-dropping scene of Jim Butcher's Changes. I may die of suspense before the next book, Ghost Story, is released next spring.
I honestly don't know if I could choose. Each of these scenes is unique and intriguing in it's own way. And all of these books are recommended by me!